Leftists have been under the hammer for the better part of eight months. On the one hand, they decried President Trump and anything that came from his administration as racist, bigoted, and xenophobic. They also claim that he was bent on the destruction of minorities and illegals, as well as prompting World War III.
Let go of the fact that while engaged in this insolence, paired with the Fake News Industrial Complex on constant attack every single day and night, the groups most closely identified with the Democrats, the so-called "antifa" crowd, were rampaging throughout the country, both applauded and encouraged by Hillary, Obama, Pelosi, Waters, Schumer, the FNIC, and celebritydom (not to mention the generous funding by George Soros).
Throughout their reign of terror as they brandished bricks, baseball bats, brass knuckles, knives, mace, tasers, and bags of urine and feces, antifa grew and their respect in the Leftist circles finally began to dwindle. While Paul Ryan was still standing by these fanatics, Nancy Pelosi, of all people, finally stood up and mentioned that they were a danger to society. Now, the FBI has…FINALLY…officially named antifa a domestic terror organization!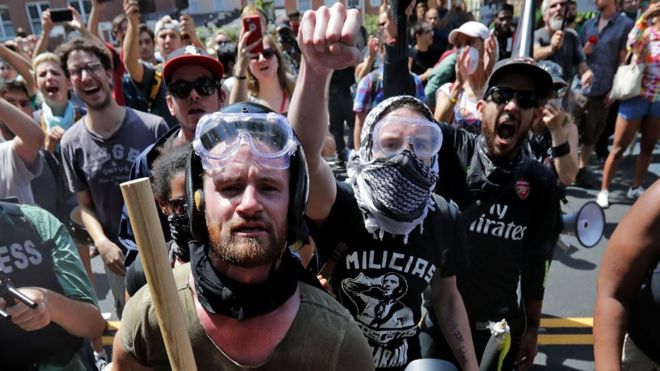 Politico:
Federal authorities have been warning state and local officials since early 2016 that leftist extremists known as "antifa" had become increasingly confrontational and dangerous, so much so that the Department of Homeland Security formally classified their activities as "domestic terrorist violence," according to interviews and confidential law enforcement documents obtained by POLITICO.
Since well before the Aug. 12 rally in Charlottesville, Virginia, turned deadly, DHS has been issuing warnings about the growing likelihood of lethal violence between the left-wing anarchists and right-wing white supremacist and nationalist groups.
Previously unreported documents disclose that by April 2016, authorities believed that "anarchist extremists" were the primary instigators of violence at public rallies against a range of targets. They were blamed by authorities for attacks on the police, government and political institutions, along with symbols of "the capitalist system," racism, social injustice and fascism, according to a confidential 2016 joint intelligence assessment by DHS and the FBI.
After President Donald Trump's election in November, the antifa activists locked onto another target — his supporters, especially those from white supremacist and nationalist groups suddenly turning out in droves to hail his victory, support crackdowns on immigrants and Muslims and to protest efforts to remove symbols of the Confederacy.
Those reports appear to bolster Trump's insistence that extremists on the left bore some blame for the clashes in Charlottesville and represent a "problem" nationally. But they also reflect the extent that his own political movement has spurred the violent backlash.
California has become another battleground, with violent confrontations in Berkeley, Sacramento and Orange County leading to numerous injuries. And antifa counter-protesters initiated attacks in two previous clashes in Charlottesville, according to the law enforcement reports and interviews.
Some of the antifa activists have gone overseas to train and fight with fellow anarchist organizations, including two Turkey-based groups fighting the Islamic State, according to interviews and internet postings.
If there's any wonder why the antifa groups wear black hoods, masks and bear knives, one need look no further than the fact that many of these youths are receiving this training from ISIS-affiliated groups abroad.
In order for law enforcement to be successful, there will need to be a broad context under which they may battle this newest domestic terror threat. If needs be, the National Guard should be called in to maintain control. If videos of these confrontations are any proof, these groups are not to be taken lightly.
Source: Politico
Author: Barry A.A. Dillinger, American Conservative Herald